neo System
There are many reasons why learning English is important. Your goals may range from being able to watch and understand English-speaking movies without subtitles to achieving long-term career goals. There are also many reasons why learning English could be challenging: a busy schedule, commuter grid-lock in your city, or you may not be sure which English learning provider can guarantee you will get to your goal.
nexgen's neo system is designed to accelerate your English learning fluency the fastest way possible. Your progress is measured by the points you get for studying with our mobile app and completing your online coaching sessions using our online platform. Our point system is designed to measure your study effectiveness and allows neo to automatically speed up or slow down your study at the right time to optimize your learning.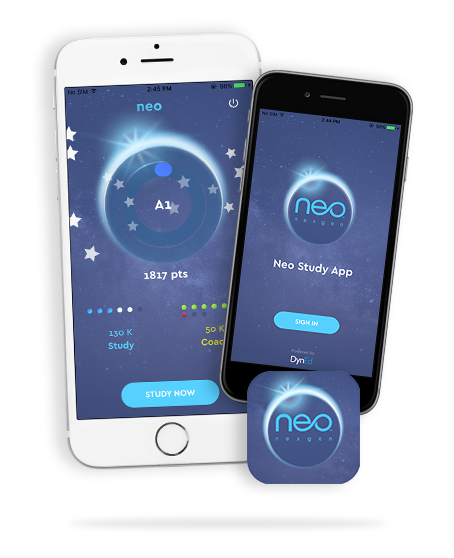 neo Study app
The more points you earn the quicker you will reach your goal! You'll quickly figure out how to earn the most points – and your coach will give you tricks and tips along the way. neo empowers you and motivates you to be the best you can be. The app will detect your skill level on the content you are studying and neo makes sure you study at the level that is right for you.
neo LIVE
neo LIVE is our online platform for your personalized coaching sessions. From the very first session, you will talk about yourself using the English language you've already learned by studying with the 'neo Study' app. Your coach can see your study data and can use this information to help you learn more efficiently.

neo LIVE also provides your coach with a personalized coaching script based on your study progress to make your conversation sessions focused and effective.


Certification
Our Certification is based on the skills you master as you progress throughout your study time. Remember, listening and speaking are skills that you have to practice to reach mastery; it's not about memorization. Like all skills repeated practice leads to mastery and helps you retain the language for a lifetime.